The  Enhancing Civic Engagement (ECE) program has been meticulously designed to help students become responsible, productive and democratic citizens of their country. Targeted at primary, upper-primary and secondary schools in Goa, it aims to enhance the students' levels of civic engagement in the areas earmarked "high priority " by the state government.
Presently the program is being implemented as a pilot project in 108 selected primary and secondary schools of Goa.
Administered in the form of "action-oriented capsules", the ECE program engaged directly with the students, making learning fun and relatable. These succinct and engaging capsules have a two-fold application:
  They ensure a thorough understanding of the content
  They inculcate in the students the socio-emotional skills to implement what is taught in a true sense.
To ascertain the successful implementation of the program, the Govt. of Goa (GoG) has allocated dedicated time within the school hours for the conduct of ECE activities.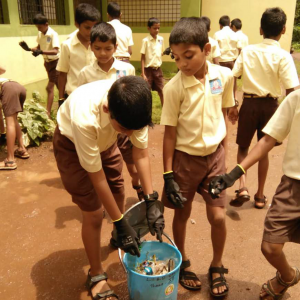 AIM
To help students become responsible, productive and democratic citizens by enhancing
their level of civic engagement.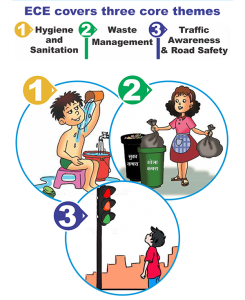 HYGEINE AND SANITATION: Process of proper treatment and disposal of waste material along with disinfecting the area completely.
WASTE MANAGEMENT: Process of managing the waste systematically-collection, transport, treatment and disposal of waste in a sustainable way.
TRAFFIC AWARENESS AND ROAD SAFETY: Process of understanding the traffic signs, traffic rules and nurturing personal behaviour that makes the conditions safe for humans and animals on roads.
Building civic knowledge, skills & perspectives through the school system
Integrating programme activities with regular school subjects - Science and Social Science
Promoting convergence among governmental departments in an attempt to steer effective change
Learning through age-appropriate activities
Initiating advocacy for civic awareness at the individual, group and community level
Believing in action through participatory tools like awareness rallies, role play, school audits, and Participatory Rural Appraisal (PRA)
TARGET GROUP
The theme-based capsules are being offered as an array of age-appropriate activities for the students of Std. III to Std. IX according to key stages rather than grade-wise
Key stage 3 - Std VIII-IX
ECE ACTIVITIES IN THREE CONTEXTS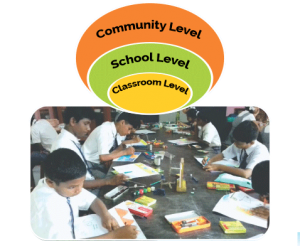 Through its programme content and style of implementation, the ECE program aspires to effect the following palpable changes in students, teachers, parents, and the broader schooling context:
1.To raise awareness of the problems pertaining to personal hygiene, sanitation, waste management, traffic awareness and road safety at the school- and community level and to recommend potential solutions 
 2.To motivate students and schools to become agents of change and usher in constructive and sustainable changes in the identified areas
3.To contribute towards nation-building by introducing meaningful practices, systems, policies and processes to resolve the identified problems
4.To strengthen governmental policies through innovative methods and ideal, context-based models
5.To follow through on the practices, cultures and systems and become role-models for others
SANITATION, HYGEINE AND WASTE MANAGEMENT
M1. Sanitation & Hygiene
1] Personal hygiene
2] School, Home and Community sanitation
3] Safe water, food, use of toilets
4] Preventive measures
5] Maintenance and improvement of sanitation facilities
6] Conducting sanitation audits
M2. Waste Management
1] Types of wastes – Dry waste, wet waste, e-waste etc.
2] Reduce, reuse, recycle, refuse and compost
M3. Environmental Concerns
1]  Natural Resources management and preservation
2] My responsibility towards waste management
TRAFFIC AWARENESS AND ROAD SAFETY
M1. Traffic Awareness and Road Safety
1] Traffic Signals and Road Signs
M2. Road Safety and Security
1] Traffic Rules and Regulations
2] Road safety and causes of accidents
3] Road and traffic safety for two-wheelers and school bus
4] Bicycle safety rules
5] Volunteerism